i Like Asian Review
The I Like Asians has some really hot Asian girls for you to watch. And they are not just showing off or anything like that: in these videos, the girls get banged hard… so hard, that in most cases they burst out liters of cum from their pussy. Yes, there are squirting Asian in there. If you want to know another important fact about the site that might convince you to read further, here it is: it's a Brazzers site.
The site looks really interesting, and at first glance, you won't believe that it's part of one of the biggest porn networks online. In fact, the page itself is just a guise, and if you start the registration process, you get into the Brazzers network right away. The page seems to be online since 2014, and it's not really possible to detect the actual content-count of it. Nevertheless, the members' zone will show you the videos of this series, and if you like Asians, you can find more of them in different videos throughout the network.
Joining the Brazzers is on every porn-enthusiasts bucket list. This network has a long history of award winnings, and it usually works with the hottest US pornstars available. The Brazzers tend to go big, and the videos always feature much too well-hung lads and girls with huge fake breasts. This studio is one of the biggest mainstream-porn providers, and so it's quite popular. If you are into Asians, the I Like Asians has a good collection, but the main feature of the membership is the bonus you get: 20 other hardcore sites become available, and they all offer exciting hours and days of hardcore sex. The videos are exclusive, and it's just as true for the I Like Asians as for the scenes of bonus sites.
At first glance you may have mixed feelings about the site, because the tour page is quite amateurish: there are thumbnails listed, and there isn't anything else to do, apart from joining. If you click on a thumbnail, you will get redirected to the Brazzers signup page, so it might be a bit calming, and ensuring.
The members' zone where you land after joining is the main members' section of the Brazzers network. There are several menus, lots of options to browse, and the videos of the I Like Asians are listed in the middle. All content is carefully tagged, and the search engine might prove really useful when you start exploring it. You can easily switch between the sites, and if you care to look around there are some extras around too. Since the videos here are coming from the workshop of one of the greatest studios, it's just certain that you will find the quality really kicking ass.
You can watch everything in the browser, and since the stream is strong, the playback quality is satisfying. The download options are varied, and the real deal is there: you can pick even 1080p versions of the videos if it's available. The members' area has a neat mobile version too.
Now, there is one thing you should know: the girls are Asians, but they are US-based Asian porn stars. This is probably evident if you read thoroughly, because the site is run by the Brazzers, which is one of the leading porn providers of the States. Being a Brazzers site also ensures that you won't find here under-medium breast, and whether it's natural or fake, the tits you can see here are always bigger than you would expect from Asians. These girls are cold, hard professionals, and everything they do shows their high level of expertise. They are capable of squirting and taking huge cocks in their ass, while they lick another.
Just to mention a name you probably know: Asa Akira also appears in the videos of the I Like Asians. Fortunately, the site doesn't focus on only one Asian ethnicity. There are Chinese, Korean, Vietnamese and Japanese models too, just as some other hot ethnic chicks too. The videos are coming from one of the biggest providers, so they offer the members' a very good porn experience and high quality. Every video was shot in studio environment, but they are not as sterile as you would expect from a mainstream provider. The sex on its own is really hard, the models have to handle real monstercocks – it's also quite exciting to see some short, cute Japanese take on a cock as thick as her arms.
All of these scenes cover something hard, and there are dozens of porn niches featured in them. For example, apart from the blowjobs (with some deepthroat elements) and the vaginal penetration, there are lots of scenes featuring anal sex. In many cases, the whole thing is quite rough, and the girls are getting fucked like they were just sex dolls thrown to some horny lions. One of the major elements of these videos is a kind of fetish: in dozens of videos here the girls are squirting all over the place, and they get pounded so hard, that sometimes they can't control it, and cum all over again.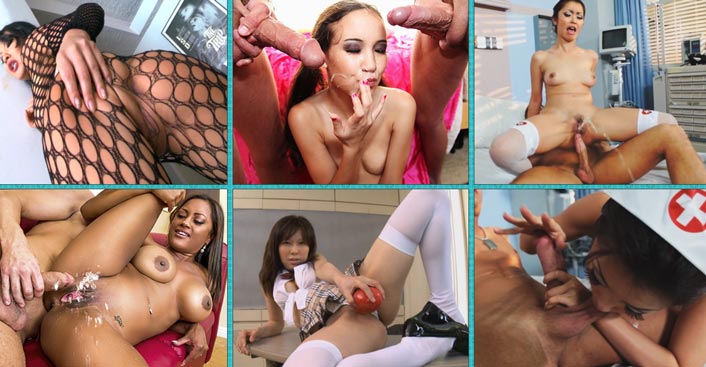 There are sites you should check, especially when you are into Asians. Browsing through this collection is a good task, and these hot professionals certainly know how to make any man horny and desire for pussy. Since the videos of the I Like Asians are produced by the Brazzers, and you get access to all of the studio's scenes, you should feel like for finding this site. You can enjoy your favorite Asian pornstars getting some rough pounding, and you can always change the theme and take a look at something else.
"This website has been closed, but you can visit CRAZY ASIAN GFS"
Date posted: February 16, 2014