Cindy Starfall pornstar
Thai, Chinese, and Vietnamese mix Cindy Starfall was born on November 28, 1989 in Saigon, Vietnam into a wealthy, conservative family. Unfortunately her conventional family in Vietnam measured any action against its money or status value. They immigrated to America when she was 15 – and she had to learn English from scratch, which accounts for that sexy Asian accent! Cindy got in trouble from an early age for sneaking out from the behind the walls "protecting" her from the rest of the world, to be with her "unacceptable" friends with less social status than her family had. This was her only freedom – that, and masturbating in the shower with her nanny waiting outside the door. Her first sexual experience was in a girls-only when she and another girl decided to dodge all the rules throttling the life out of them, and have some all-girl fun – in the lunch room!
Instead of conforming to these rules in all areas of her life, Cindy felt restricted. She needed freedom and sexual release on her terms. When her parents tried to push her into what they considered was an ideal marriage, she rebelled and was shown the door. Although very sad, Cindy was glad that the door was finally open – her real life could begin. She was ready to start her career and life to the fullest.
She was disappointed by the corporate world. She had a "good" job, but she was struggling to breathe, stifled by a different set of rules. As always, she rebelled – and became a web-cam model in her private time. Now finally she had an outlet for her pent-up sexual desire. She took great efforts to keep her work and her modeling career separate. She enjoyed hugging her secret to her heart while looking conservative in her business suits. The danger added some spice to her life, and she felt sexually alive! One day someone recognized her, and this dutiful mama's boy told his mother who she was in her private life. Cindy felt wonderfully bad and rebellious when she got the stern instruction to "please report to the HR office immediately". Cindy quit the corporate world and started her porn career. In March 2012 she met a Hustler executive and soon after did her first hardcore porn scene. For the first time, Cindy felt she was doing what she wanted. She could live out all her sexual fantasies – in front of a camera! And get paid for it!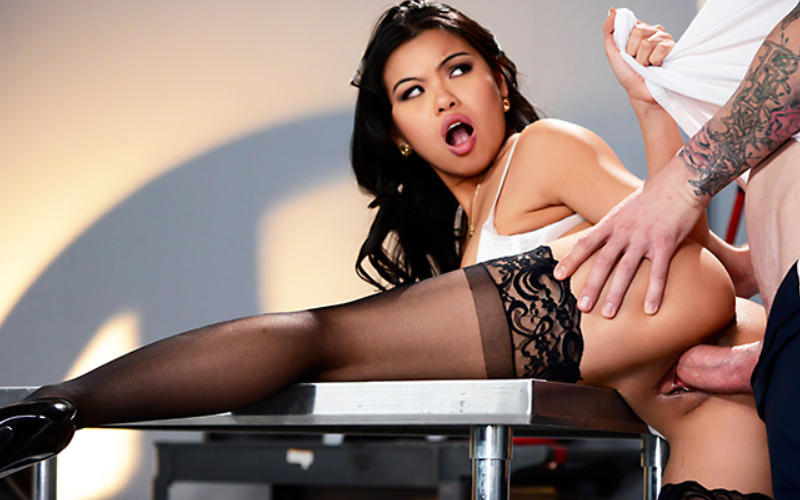 Career in Adult Entertainment Industry
If there is one thing Cindy craves, then it must be to have a big Alpha male roughly taking over in the bedroom. It must have something to do with her 5'1" body – she finds the idea exciting of having a muscular Tarzan override her strong personality, taking charge and protecting her. She prefers to star opposite these commanding, well-hung males, and she loves to be stretched to the limit to satisfy them. The more demanding and rougher the sex, the better! She feels that it is one of the advantages of her sexual career – she gets paired with huge cocks that she probably would not have experienced normally. She has a married man fetish and is very much into a swinging lifestyle. After a quick lunch with the couple, she would know whether they suit her and would arrange a meeting very soon afterwards. Then it is time to have fun!
She once met a married who had the seat next to her on a plane. She got horny and led his hand to her pussy under her blanket. He whispered that he was married – but that did not deter her – in fact, it added spice to the encounter. She jerked him off in a plane full of people! She loves the fact that he was a stranger, because having sex with a stranger is one of her fetishes.
She recounts how she once masturbated while stuck in traffic, playing with herself with one leg up. A stranger in the lane next to her saw her and wanted her. They got off on the first exit and had wild, passionate sex in an empty parking lot. It was much better than being stuck in traffic! Cindy admits that part of the excitement of having a porn career, is that she now has a wide fan base to affirm her beauty. Because she was shorter and curvier that the rest of her family, she had to constantly tell herself that she was beautiful in order to keep some confidence in herself – but these days her fans do the confirmation! The fact that she is also supporting herself in a very pleasurable way is a bonus.
Private Life and Interests
It was a very different, self-confident Cindy who went to visit Vietnam after 10 years. She lived a very protective life when she was growing, so she did not get to see much of life on the outside. It was an eye-opener for her to see how hard people had to live to survive. She is a good cook, who loves Asian foods. Unfortunately Asian food takes a long time to cook, so she limits herself to those dishes that take less than an hour to prepare.
She even brings her own lunch when she has to do a porn scene, because she loves to eat after sex and she does not want to eat fast foods – she likes to live a healthy life. This nerdy porn star with a business degree in marketing does not drink or smoke – she is only addicted to sex! She loves her job and enjoys sex any time. Her job in porn industry does not only make money but she enjoys to the fullest.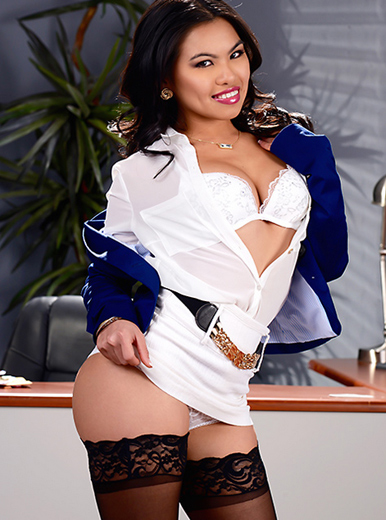 Date posted: April 1, 2016