Dahlia Sky pornstar
Dahlia Sky is also known as Amber Rose, Shyla Jameson, and Bailey Blue. She was born on August 10, 1989 in Riverside, United States. This blue eyed, blonde beauty is not easy to miss, especially with all, those piercings: on her right nostril, belly button, navel and both nipples. She has taken her time to enhance her look and give that celebrity look.
She was working under the name Bailey Blue when she ran into trouble with a clothing brand. She was given only a few weeks to "cease and desist", meaning change her name to something completely different. This turned out to be a blessing in disguise, because she is even better known as Dahlia Sky. She chose Dahlia because she liked the flower and also because it is suggestive of Black Dahlia. Sky was the nearest she could get to Blue without ending up in court. She lost a vast amount of work due to the name change, but she bit the bullet until she was back in demand as much as she was before the name change. She can now laugh about it, like when Rocco Siffredi told her that he had booked both Dahlia Sky and Bailey Blue, not knowing it was the same girl! She had an interesting upbringing, mostly learned from home with time in public in between. She developed her love of reading during this time. Since it was a charter institutions, she could select various electives. She took lessons in horse-riding, dance, drama, gymnastics – no wonder she has such a well-toned body!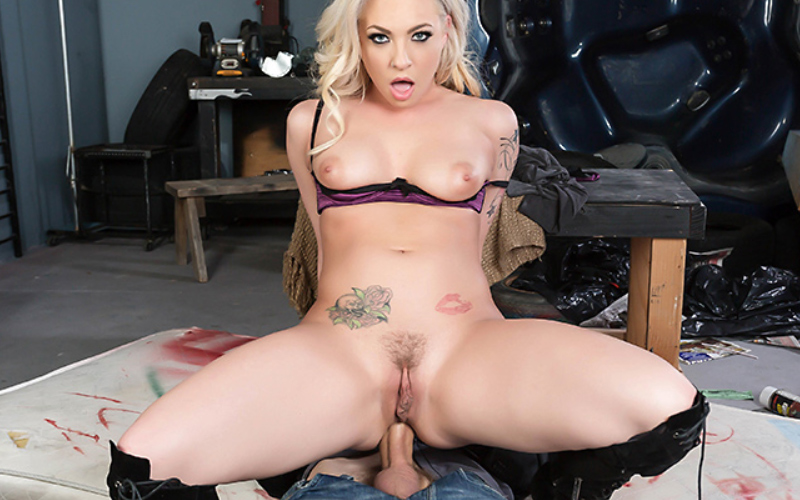 Career in Adult Entertainment Industry
She did not have a good introduction to sex. She and her long-time crush (the boy next door) were having fun under the blankets with the boy's sister in the same room. Things got serious, and Dahlia was experiencing discomfort instead of pleasure – but it was the boy who freaked out and could not go on! Dahlia did not have sex again until two years later when she got into a serious relationship. When this relationship was over, she played the field a bit before she got into the industry. From then she has never looked back and has always enjoyed sex as the cameras roll. No feelings of shame, she simply embraces sex and loves it and when watching her, you feel that good sex is respectable while at the same time showing none of it but enjoying it to the maximum. She has a slim shape that allows her to maneuver and enjoy sex in all styles. As she started her porn she found out that she could have sex, have fun, and make money all at the same time in front of the camera. This was an eye-opener for her. It all happened after an agent saw some nude photos of her, and invited her to a meeting where she mentioned the advantages of being in the adult industry. Dahlia signed the contract that same day and started working a week later. After a while things turned sour between her and the agent, and she watched the Mark Spiegler celebrity girls with envy. She was very pleased when she finally started to work with Mark Spiegler, agreeing with everybody that he is first-rate and awesome towards the people he works with.
Dahlia admits that she still suffers from pre-scene jitters. Sex on camera is completely different from the one you have at home. It can be nerve-racking to present yourself to the camera, keep the other actor/s in mind, and have mind-boggling sex at the same time. She giggles when she declares that she is so okay with it now that she goes wild once she gets into the scene!
Her mother found some documents on the printer and confronted Dahlia with her porn career during a fight. It was not the career her mother would have chosen for her, but once her mom realized that she was careful and responsible when taking decisions regarding the industry, she relaxed about it. Dahlia feels that one of her career highlights was Dahlia Blue: Wide Open, mainly because the team all had so much fun and it was done with so much professionalism from everybody involved. It is firm favorite with us too!
Private Life and Interests
She was initially not interested in doing anal because she was nervous and inexperienced and found it too uncomfortable. When she knew she was going to start working with Spiegler, she decided to give it another try – with so much success that she is known as the queen of anal! She only recently started doing IR. When Spiegler asked her why she was not doing it, she explained that she was so busy, that if she were to do that as well, she would simply never have time for herself. However, it appears as if she finally made a plan to fit that into her busy schedule. She needs a lot of sex and masturbates (preferably Hitachi) at least once a day. When she is not working, she likes to do "ordinary stuff" like listening to rock music, being with her friends, watching movies and going to the beach.
Dahlia had been nominated twice for the Performer of the Year award, so she had clearly overcome any awkwardness in herself, as well as any detrimental effects the name change might have had. She has had to grow a thick skin because so many people are so judgmental, but today she can look back at how she far she had come in a notoriously difficult industry. She is looking forward to what the future holds, including a degree and some directing. You go girl!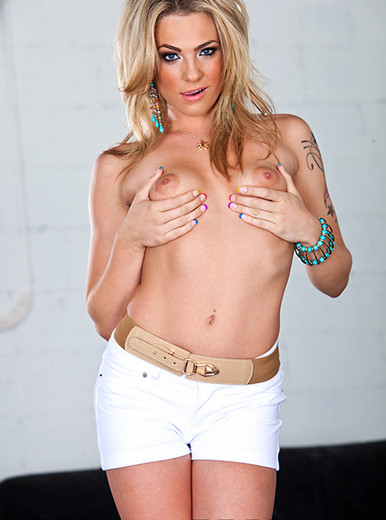 Date posted: April 1, 2016