Christy Mack pornstar
Christy Mack is a petite former porn actress known for her punk style looks and her voracious onscreen sexual appetite. She was already comfortable with adult content performance long before she joined porn industry. She is a little, wild sex machine who always shows how she can fuck in every way possible. Christy stands at 5 ft 3 in (1.60 m) and weighs 105 lb (48 kg). This feisty, petite porn trooper has measurements of: 34DD-24-36. She's a Blowjob Artist and an Anal Babe Extraordinaire; and can be seen getting the money shot on all the fun spots. But her life resembles a Punk Rock version of beauty and the beast.
Christy Mack's Early Life Christy Mack (Real Name: Christine Mackinday) was born on May 9, 1991, in South Chicago Heights, Illinois, United States. She grew up in Edinborough, Indiana. Christy had a rather normal life before porn. She was a cheerleader, worked at the local Nike store, and even danced in a gorilla suit for Sprint. At 18 years old, Christy got married. And as a stay at home wife, Christy took care of their dogs while hubby worked at a car dealership. But that life was not enough for the young Christy. So, after being offered a nude modeling job in Miami, she left the Midwest and her marriage behind. At age 19, she started fetish modeling. Soon after that, she decided to perform hardcore porn. Though she took some time to think about it, she has never regretted getting into porn.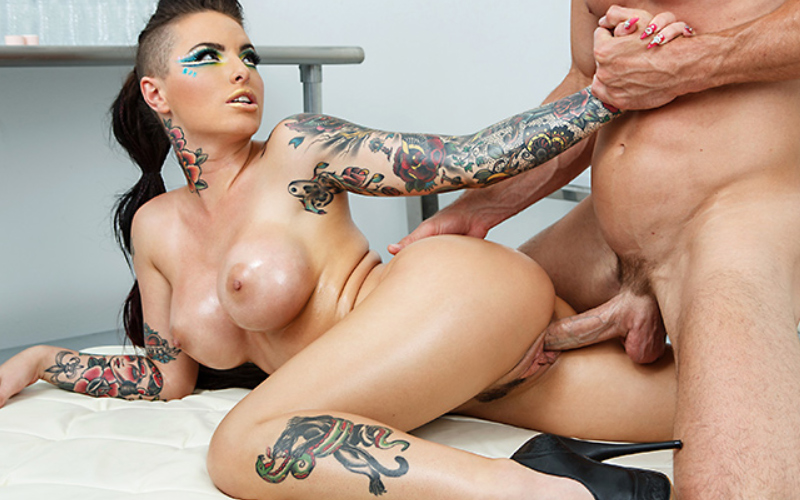 Career in Adult Entertainment Industry
Christy Mack began tattoo modeling before porn. She's appeared in Rebel Ink and Inked Girls magazines and has also done photos for the Brazzers and Bangbros porn websites. Her beauty enables her to thrive in modeling and it must be what led her in the adult content industry. Christy began her inks right before turning 16 years old. Being a painter, she designs most of her own tattoos. Her first tattoo, on her lower-back, is a star (nautical type) and sparrows. "Love Sick" is tattooed on her knuckles. Another tattoo reads: Property of War Machine is a right shoulder tattoo that looks like a red, USDA meat stamp. In Inked Mag in July 2014, she said that it was her tattoos and body that led to her success because there was no one quite like her – in appearance and attitude, when she first entered porn. Christy believes that her tattoos make her beautiful; the more tattoos, the better.
Early in her career, she attracted an almost cult following; mainly due to her gothic appearance (e.g., Mohawk hairstyle, plenty of tattoos, and dark lipstick, eyeliner, etc.) and her enthusiasm and aggressiveness during sex scenes. Christy started her career as an American pornstar in 2012. She launched her official website called Puba in April, 2012 and released her signature sex toys by Fleshlight. Also in this same year, the studio Wicked Pictures produced the porn movie "Wanderlust" directed by Stormy Daniels that featured Christy in the largest sex scene of her career along with 4 other actors. Additionally, Christy appeared in X-rated features for several other top porn companies such as: Evil Angel, Pulse Distribution, Elegant Angel, and Jules Jordan Video.
As an actress, she appeared in a 2010 Italian Zombie Movie. Christy has appeared in mainstream tattoo magazines including Inked and Rebel Ink. In of 2012, via Twitter, R-n-B singer Rihanna posted a photo of Christy's butt. But the truth is: yes, it was Christy's butt, but the tattoo was photo-shopped on her butt's image.
Private Life and Interests
Prior to 2014, Christy's life was going great. Her career as a porn actress had taken off and she had a stud of a boyfriend in Bellator MMA fighter: War Machine (Real Name is James Rupert "Rhodey" Rhodes). In fact, they were featured as a nude couple for Hustler magazine in January of 2014. But alas, all good things must come to an end and they split up. The scorned lover thing is a sword that cuts both ways. And when you are talking about a top ranked MMA fighter, you are definitely playing with fire. It was one experience that left this pornstar in a terrible state.
Allegedly, War Machine went to Christy's Las Vegas home on August 8, 2014, and assaulted her along with her friend Thomas Corey. She was taken to the hospital where she had 18 broken bones, a broken nose, multiple missing teeth, a rib fracture, and a damaged liver. Ouch! According to Christy, War Machine also tried to have sex with her against her will. But as a porn actress, that might be a hard one to prosecute. It was not a good experience for because it was not part of her work and it was against her will. After a week-long manhunt, on August 15, Bellator was arrested in Simi Valley, California. The authorities needed both the U.S. Marshals and Simi Valley police to take the MMA fighter into custody. He had to be tried for his inhuman attack that left this girl in a bad state and ruined her career.
Chrisy was featured in an April 2015 story by ESPN writer Jane McManus. The story chronicled her life before, during, and after her attack; including her recovery efforts. In the article, Christy states that she is planning to cover up the tattoo that mentions her ex-boyfriend and attacker, War Machine. She also confirmed her retirement from porn movies at that time. She needed a long time to recover after the intense injuries. But, maybe she will come back, you can never be too sure because eventually, she will recover completely and may want to continue doing what she enjoys most. Only time will tell whether she will or not.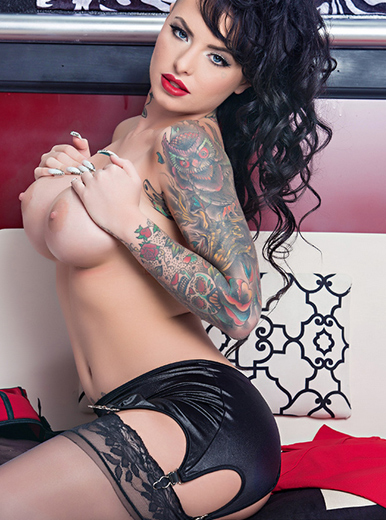 Date posted: March 25, 2016